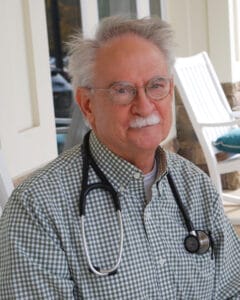 Dr. Kevin Jackson grew up in Limestone County, Alabama, and attended Birmingham Southern where he received a Bachelor of Sciences degree in Chemistry. He went to the University of Alabama School of Medicine in Birmingham (now UAB) and did his residency in internal medicine at Carroway Methodist Medical Center in Birmingham before establishing his solo practice in the Auburn-Opelika community in 1983.
Over his nearly four decades of practice, Dr. Jackson has had the pleasure of caring for multiple generations of the same families and also continuing to welcome new patients. Through his dedication to staying current with the practice of medicine as it evolves, he has maintained a focus on the early diagnosis and management of complex problems as well as preventive medicine. 
He is Board Certified in Internal Medicine and is an active member of the East Alabama Medical Center medical staff. He has served as EAMC's Chief of Staff and as Medical Director of EAMC's Skilled Nursing Facility. He is a member of the Alabama Medical Directors Association and continues to care for patients as they enter local long-term care facilities. He is also a Medical Director for Encompass Hospice and, since its inception, has volunteered his services to care for uninsured patients at Mercy Medical in Auburn.
Dr. Jackson enjoys bicycling, hiking and camping, birding, reading, fishing, and Auburn sports, particularly basketball. He's also seen two total solar eclipses and hopes to see more. He and his wife, Katie, live in Opelika near their four children and soon to be eight grandchildren.